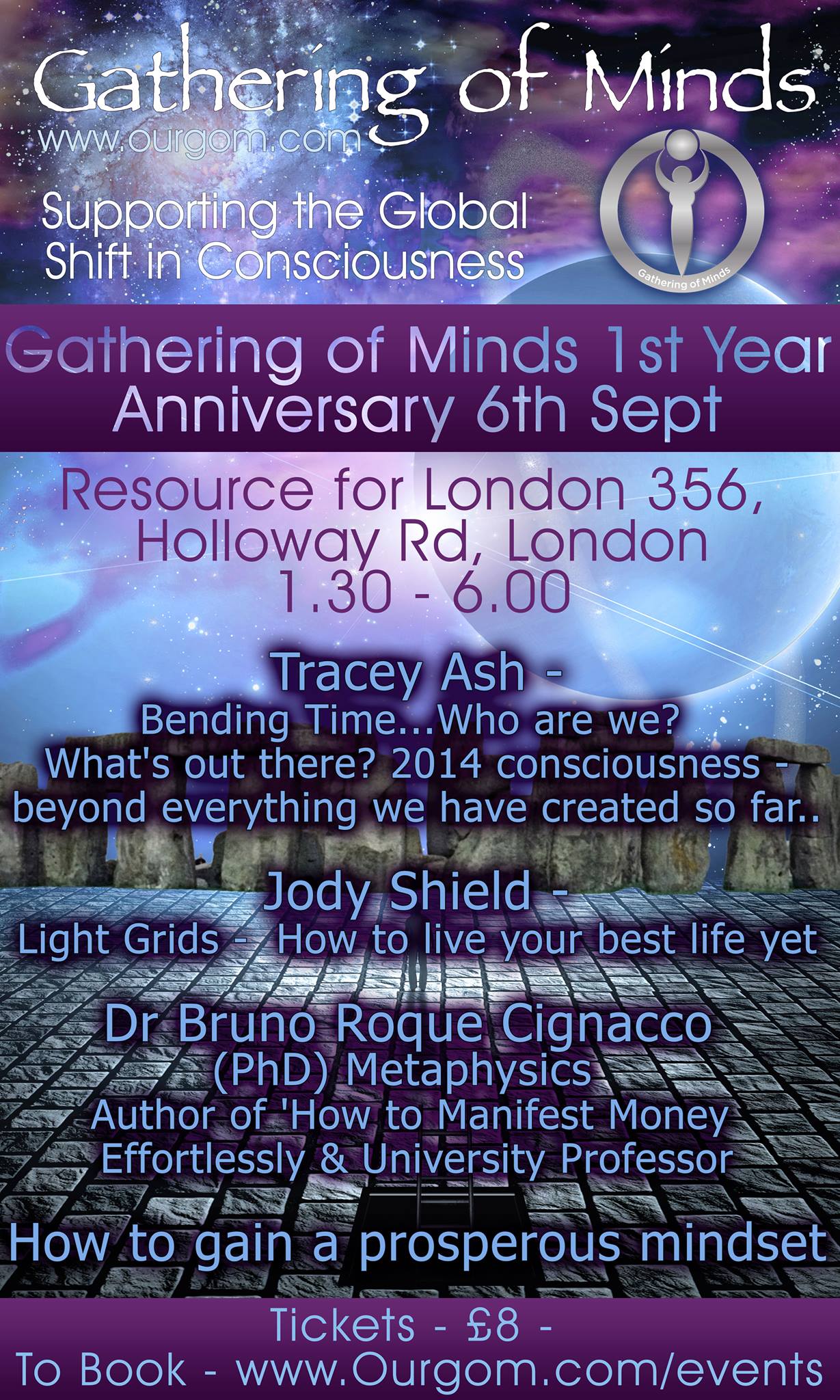 Its our 1 Year anniversary and what a Year it has been!
We have come so far and its all thanks to you guys for the amazing support! For our 1 Year anniversary we have put together some amazing speakers with some different topics! See below for info!
We are also planning a free social Gathering for after the event near to the venue for all that join us on the day 🙂
Tracey Ash
Bending Time

:

Who are we? What's out there? 2014 consciousness- beyond everything we have created so far….

THE PRESENTATION

Learn
SUPER-ENERGY potential and excellence- super-simple approaches and technologies for high frequency living, collaborating and contributing more.
Why Earth Power Sites and Ancient Monuments are key in super-speed transformation, rebooting your energy systems and throwing off low frequency stories that limit who we can be
See actual film and photo evidence of earth power sites, inter-dimensional realities & intelligence and the super-consciousness that depicts cohesion, a new intelligence for positive self and world change!
We will explore Tracey's research and findings of film and photographic footage of other realities for super-consciousness living that will create groundbreaking self and world change.
This event will awaken your experience of super-consciousness in simple, high frequency super-energy technologies for super-speed transformation and life changing awareness.
If you are interested in pro-humanity and pro-earth inter-dimensional super-communication and super-transformation, Earth Power Sites that are encrypted in Ancient Wisdom, Energy Orbs, Angels and Entities, UFO's and super-awakening experiences, then this is for you!
BE THE CHANGE RIGHT NOW
Tracey will explain why super-energy excellence is key in everyday living, in spiritual & transformational approaches and in super-awareness, that allows you to enter, bigger picture, bigger reality that is cohesion, collaboration and contribution.
This is the groundbreaking possibility POST-2012…SUPER-ENERGY…are you in?
Tracey Ash is a traveler & teacher of groundbreaking consciousness Potential & Awareness, Energy Orbs, Inter-dimensional communication, Earth Power Sites and more.
TV and Media includes: The Guardian, The Evening Standard, Kindred Spirit, C4 Cutting Edge, The Daily Express, The Daily Mirror, Star People (Natural Spirit Japan), PSI Journal Japan, Radio 4. She is a Global Speaker who has given talks at Mind, Body & Spirit Festival
HOW TO LIVE YOUR BEST LIFE YET!
THE PRESENTATION
Imagine waking up, super-excited about the day ahead, with no worries about anything. A life where you lead with love and observe everything fall into place. Relationships of unconditional love and endless support. Running your dream business from the heart, and getting paid!
This is my life, and this could also be yours. I'll tell you my story, my journey with Light Grids: an incredible new means of physical and spiritual clearing, a new approach to life, and how to live your best life yet.
Receive
A deep clearing session with Light Grids
 

Self-help techniques

to create more love
 A new way to experience the world
 Plus a

FREE

Meditation of the Heart to take away
Jody Shield – Highly Intuitive Spiritual Practitioner, mastering the Energy Healing Techniques of EFT and Light Grids Practitioner – Trained in the Light Grid Healing Technique™ Via Damien Wynne (Founder of Light Grid Healing Technique)
Guided by a powerful intuition, Jody likes to keep things simple. Using transformational healing techniques, practical life-changing coaching and psychological insight has earned her an army of fans.

She can tap into the deep-seated and often deeply hidden issues and pains of our past, both physical and emotional, without the need for digging up uncomfortable memories we'd rather forget. Instead, Jody uses guided meditation and intuitive healing during her sessions to bring our emotional obstacles to the surface and then work through them to a happier, stronger, and more loving path
Dr Bruno Roque Cignacco PhD
HOW TO GAIN A PROSPEROUS MINDSET
THE PRESENTATION
This talk will be primarily focused on techniques to develop a prosperity mentality. The frequent use of these simple methods will help you manifest more money in your life.
This talk will pinpoint the following topics:
 The

main negative assumptions about money 
 The importance and origin of beliefs
The main beliefs about

Prosperity,

Positive Thinking

and

Abundance
 Exercises to better your belief system
Receive 
 A better level of understanding of the relationship between you and the mental landscape of your finances
 Insights about your own mental limitations regarding prosperity
 

Practical tips to change your negative beliefs about money

and become more prosperous
Dr.Bruno Cignacco will highlight the main aspects of a mental framework to attract more abundance. The main techniques to develop a prosperity mentality will be explained in detail, accompanied with brief practical exercises.
Dr Bruno Roque Cignacco PhD Studied Metaphysics for over 15 Years. Author of 'How to Manifest Money Effortlessly and Techniques to be More Prosperous" (O- Books, 2013)  http://www.o-books.com/books/how-manifest-money-effortlessly. He is a university professor, an international speaker, a business adviser and certified life coach.
Also! Don't miss…

Simone Vicenzi will be playing the Didgeridoo and we will be meeting for a free social after the event at a local pub 🙂 All who attend are free to join us 🙂
Venue –

Resource for London, 356 Holloway Rd, N7 6PA
Doors open 

1.30 – 6

. First speaker 2pm – Please arrive at least 15 mins before this time.
**********************************************************************
Comments
comments